Signup & secure Trial
The transition from your trial period to a paid subscription is seamless. All your account's content and information will stay put!
Update a Trial account to a paid account
Log in to your Filecamp trial as Administrator. Open the main menu (
) in the top left corner.
In the bottom left corner of the window, you will see a small message stating how many days are left of your trial period.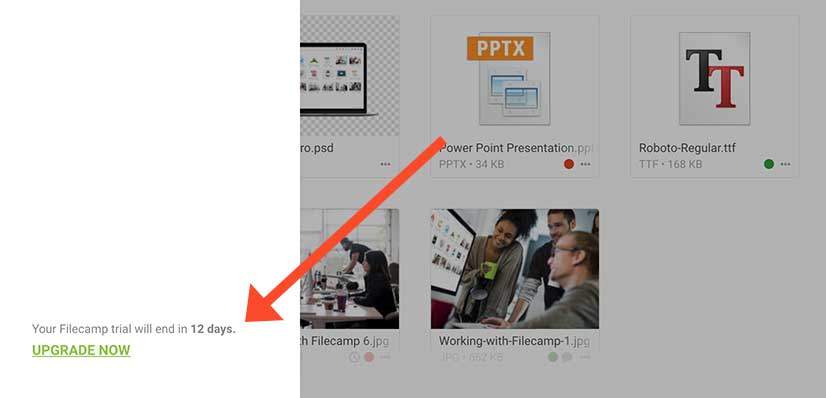 To secure and upgrade your Trial account just click UPGRADE NOW and choose your preferred plan, enter your billing details and credit card information in 4 easy steps: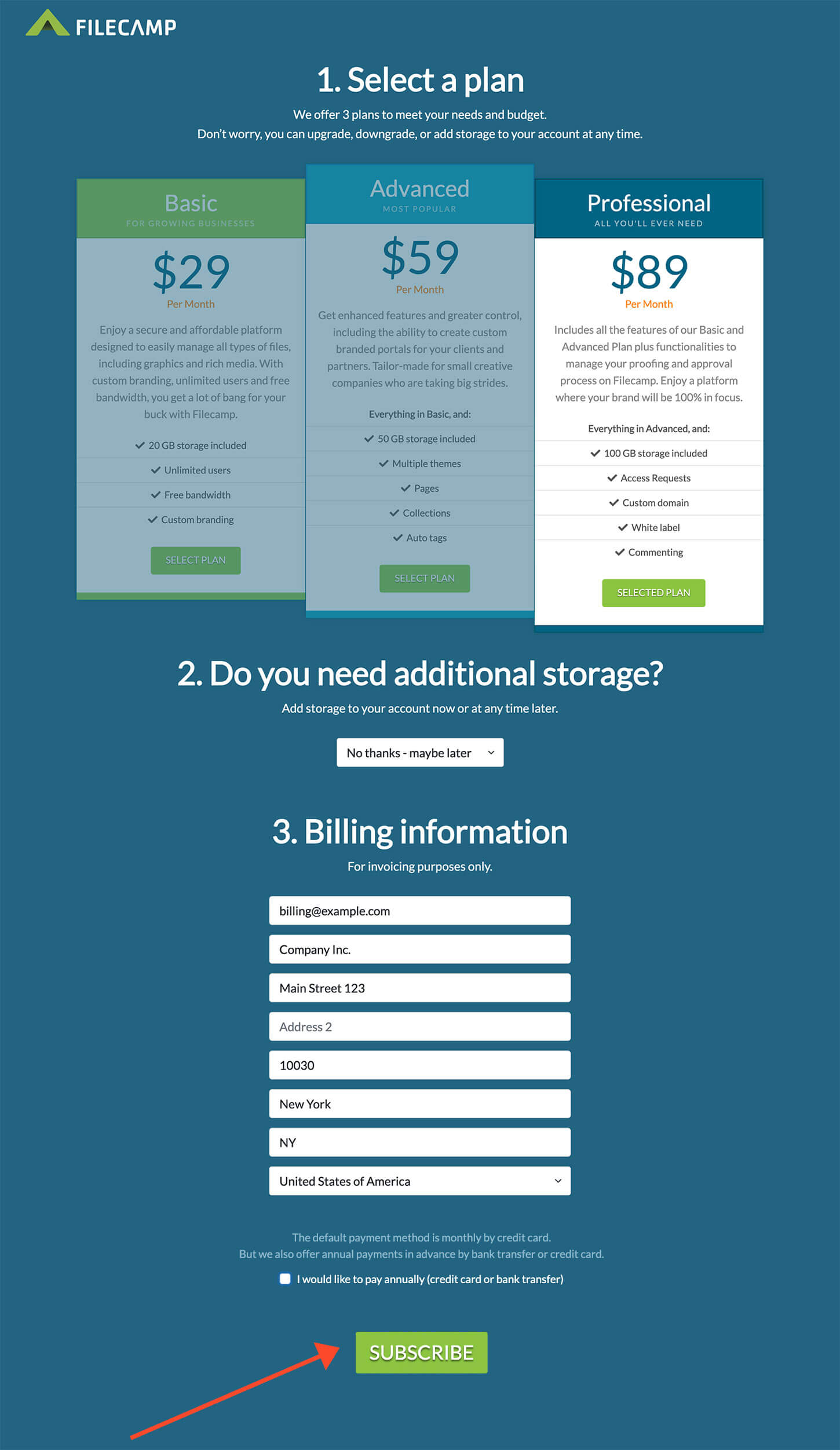 1. Select a plan
Choose a plan. Remember you can upgrade/downgrade your plan at any time.
2. Additional storage
Choose additional storage if you need more than included in your selected plan. Remember you can upgrade/downgrade storage at any time.
3. Enter your Billing details
Customize your Billing details to include your company name and address or other important information. Invoices will be sent to the "Invoice Email" at the start of every month covering the monthly subscription.
The default payment method is monthly by credit card. But if you prefer to pay annually, you can check the checkbox and you will see some more options.
Click the SUBSCRIBE button when you are done.
4. Add a credit card
If you have chosen to sign up with your credit card you will now be prompted for your credit card details. We are able to accept Visa, MasterCard, and American Express. All future charges will be charged to this card. Now click the SUBSCRIBE button to finish the process.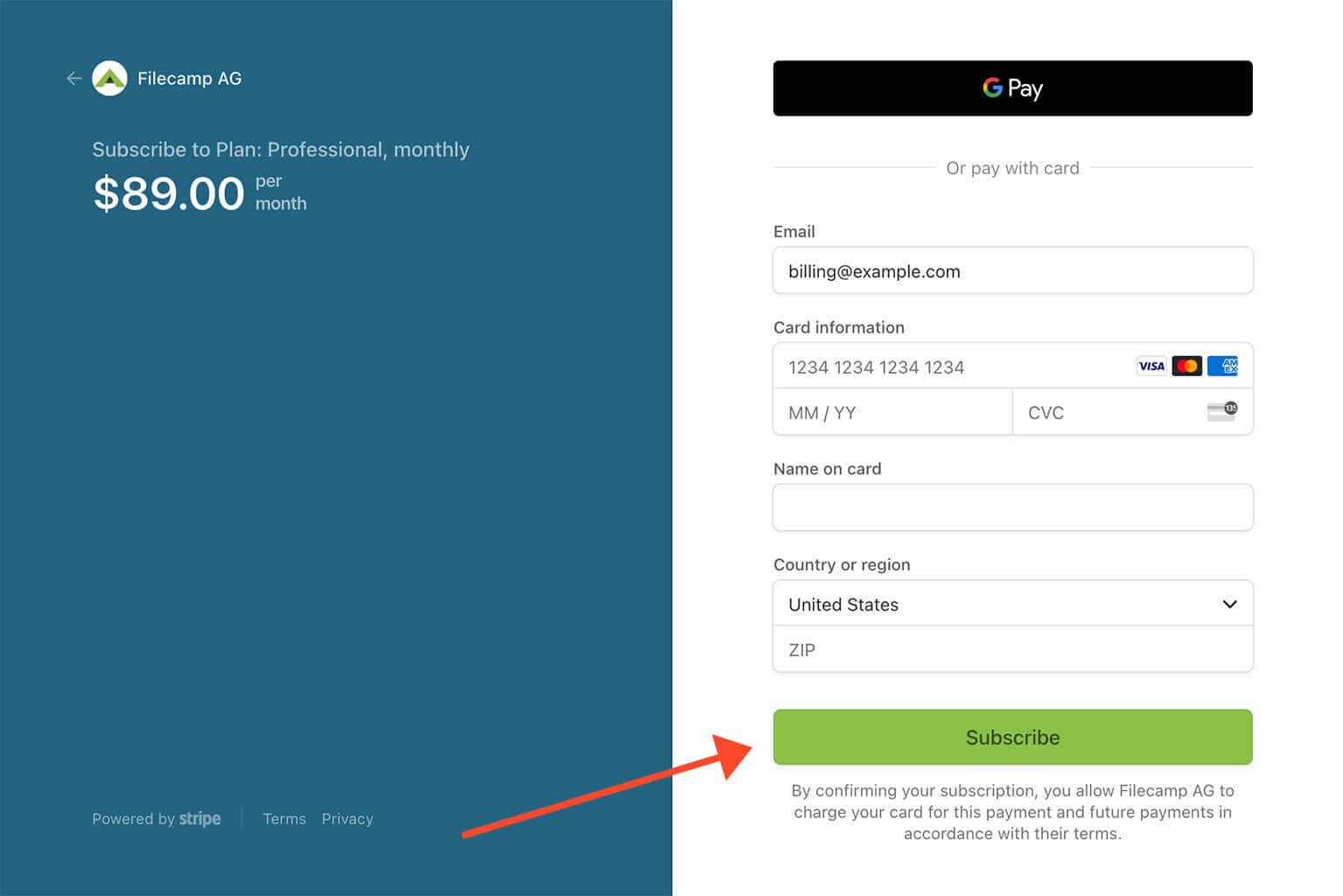 Congrats!
Your order is now being processed and your updated account will be ready within a few minutes 🎉
Please log out and log back in to see your new account status.
---
Notice:
To signup and secure your Trial, you must be an
Administrator
!
Don't have a credit card?
No problem! You can also pay by yearly invoice. Invoice order payments can be made via Credit Card, Bank transfer, or PayPal.
Credit Card Management for recurring transactions
Filecamp uses stripe, a Level 1 PCI Compliant service provider, to manage credit card data and PCI compliance.
Filecamp only stores the absolute minimum card details such as the last four digits and the expiration date for identification purposes.