With Multiple themes, you can custom brand specific folders and thereby give your clients their own image library or file sharing portal that feels just like home with their logo and colors.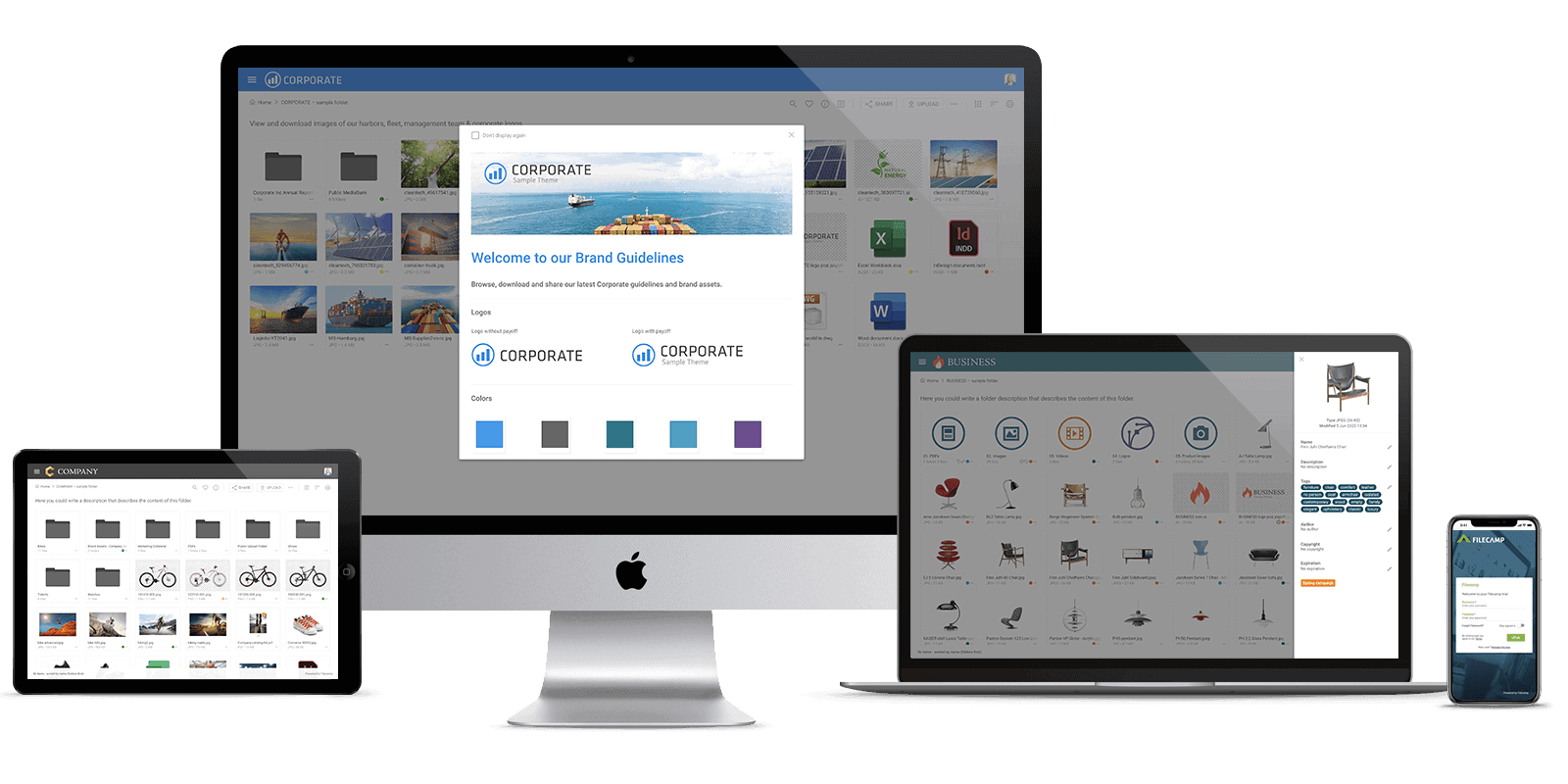 Custom Branding with Filecamp
---
Apply your own (and your customers) colors, logos and titles
and assign these settings to specific folders.

When managing and sharing brand files, it only makes sense to have a platform that reflects that same branding.
Filecamp comes with some unique branding possibilities for sharing files and collaborating with your clients and partners. You can brand your Filecamp with your company logo and colors so it feels like a solution provided by your business. But hey … why stop here? Why not give you the opportunity to brand your client's Filecamp experience too? With Filecamp's Multiple Themes that's exactly what you can do. Using the Multiple Themes feature, you can operate with multiple themes and brand as many separate "sub-accounts" for your Filecamp as you'd like. You can customize the login page and overall logo and colors for each client so they have a unique Filecamp experience that is centered on their brand. When you provide your clients a branded and secure file sharing and media management solution with little effort on their part, they are often happy to contribute to the cost or pay you for the service as a value-add to existing services.
TIP: Some Filecampers even use the Multiple Themes feature as an additional source of revenue!
Use cases:
Advertising- and Design agencies can use Multiple Themes and custom branded folders to create branded sub-accounts to their clients.
Large corporations with multiple brands can create branded folders for each brand. This will make it very clear for all stakeholders which brand you entering.
Architects can create a new theme for each project they are working on.
More use case? Please let us know.
Your brand, your DAM!
The following examples show how easy it is to create custom branded experiences for different clients using Filecamp's multiple themes feature. All the screenshots are from the same Filecamp account, just fitted to different clients/brands.
---
PLEASE NOTE: Custom Branding (one theme) is included in all Filecamp plans. Multiple themes are included in Filecamp Advanced and Professional Plans. Our 30-day free trial gives you all the features of the Professional Plan so that you can see the possibilities of multiple themes for yourself.